"5 for Freddie": Bucky Pizzarelli's Tribute to Freddie Green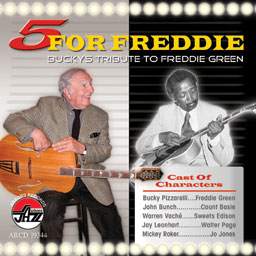 CD Liner Notes by Michael Pettersen
August 2006
Frederick William Green was the name given by his parents. Freddie Green (not Freddy nor Greene) was the name that appeared on over one million record jackets and concert programs. Pepper was the name laid on him by his Basie band mates. Mister Rhythm was the name he earned and the title he still holds.
Freddie played rhythm guitar for over fifty years. A conservative estimate is that he strummed more than 250,000,000 quarter notes...all perfectly placed. Bucky Pizzarelli, the leader on this recording, is in his sixty-third year as a professional guitarist; he may have played more quarter notes by now. Like Freddie, Bucky thoroughly understands the subtle art of rhythm guitar, "When I was young, during the big band days, it was a big deal to play good rhythm guitar. If you were a guitar player, you had to know how to play rhythm first. Most of the time, you were playing rhythm. Single lines were secondary. The whole thing was to get the right rhythm sound." And no one appreciates the artistry of Freddie Green more than Bucky Pizzarelli.
Born March 31, 1911 in Charleston, South Carolina, Freddie Green became fascinated with music at an early age. "As a kid, I was a good dancer. I always loved music. It was evidently in me," he said in a 1977 interview. He played the ukulele as a child and then taught himself the banjo. His only formal music lessons came from a Professor Blake who taught at the Jenkins Orphanage in Charleston. "I used to go to his house. He was a graduate of Howard University and a tuba player. On Sundays we would go to his library where his music books would be, and he'd help me," he recalled in the same interview.
Freddie's musical talent was apparent and he went on the road with a band from the Jenkins Orphanage, playing banjo. When the band bus stopped in New York City on its way back to Charleston, he decided to stay. He had lived there with an aunt during his early teenage years and if he was to make a career in music, New York was the place to be. Freddie sent for his wife, Leotha, and his first child who were still in Charleston. To pay the bills, he worked as an upholsterer during the day and as a musician at night, playing ukulele and banjo. It was a style change in music that altered his life forever. The banjo fell out of favor in the early 1930s and the guitar became the in-demand rhythm instrument. So he had to buy a guitar, pay for it in installments, and again teach himself how to play. His new instrument led him to jazz gigs at after-hours establishments, including the Yeah Man Club, the Exclusive Club, and the Black Cat. While playing at the Black Cat in 1937, he was heard by John Hammond, who convinced Count Basie, then performing in New York, to audition the guitarist. Basie hired him and Freddie became Basie's guitarist, friend, and confidante for the next five decades.
In the late 1930s and early 1940s, the Basie band had the dream rhythm section that the jazz world named "The All-American Rhythm Section": Bill Basie on piano, Freddie Green on guitar, Walter Page on bass, and Jo Jones on drums. Admired by jazz fans worldwide and envied by every other big band leader, "The All-American Rhythm Section" played with restraint, drive, perfect time, and enough swing to alter the Earth's orbit. Note the "Cast of Characters" listed on the cover of this recording. The "Characters" are the members of "The All-American Rhythm Section", plus Harry "Sweets" Edison who joined the Basie family in 1937 and quickly established his musical niche by playing tasteful, swinging solos on muted trumpet.
The "Cast" on this recording, Bucky on guitar, John Bunch on piano, Jay Leonhart on bass, Mickey Roker on drums, and Warren Vaché on cornet, account for over 250 years of jazz experience. With musicians of this caliber, traditional liner notes can be useless or, at best, redundant. There is little need to pen eloquent phrases about each solo and tune. Every track here abounds with taste, humor, elegance, witty quotes, invention, and swing. Just listen, enjoy, and smile...maybe even dance. However, historical background on the tunes chosen can be useful, if only to entice the listener into checking out the original recordings that influenced this superb "cast of musicians." Not surprisingly, the majority of tunes on this CD have a direct connection to Freddie Green. Five are his compositions. Down For Double was first recorded by the Basie band with an arrangement by Buck Clayton, then a member of the Basie trumpet section [November 1941]. High Tide, another Basie recording, dates from the end of World War II [May 1945]. Bustin' Suds is from a record date led by saxophonist Paul Quinichette [July 1952]. Freddie's most famous composition, Corner Pocket, was arranged by Ernie Wilkins and appeared on the best selling Basie album April In Paris [July 1955]. Note that the tune's bridge is lifted from Bustin' Suds. And from Freddie's only LP as a leader, Mr. Rhythm, comes Up In The Blues, [December 1955] recorded at the venerable Webster Hall in New York City.
Five more of the tunes were recorded by the Basie band with Freddie on rhythm guitar, of course. Using the chord changes from I Got Rhythm, Lester "Prez" Young created the eponymous Lester Leaps In [September 1939]. Starting life as a head arrangement, this tune stayed in the Basie repertoire for years. Composed in 1932, All of Me was recorded by Basie for the first time in November 1941. Freddie tracked this tune over sixty times with the Basie band counting radio broadcasts, television programs, films, and phonograph records. In contrast, Basie recorded Sophisticated Swing only once [December 1947]. The sublime Shiny Stockings [January 1956] was written and arranged by saxophonist Frank Foster. For Lena and Lennie, composed by Quincy Jones, is a tribute to singer Lena Horne and her husband, pianist Lennie Hayton. This memorable melody was recorded by Basie in December 1958.
According to Bucky, the remaining three tunes were included for other reasons. Dreamsville was never recorded by Freddie, but is a favorite of pianist John Bunch. Freddie also never recorded Centerpiece, however, it was frequently played by Harry "Sweets" Edison. Popularized by Lambert, Hendricks, and Ross, Centerpiece was born when lyrics were added to Johnny Mandel's Keester Parade. Finally, there is Groovin' High, Bucky's tip-of-the-hat to his former employer Dizzy Gillespie. Bucky adds, "There is lots of space in the melody and you can hear the rhythm guitar."
Playing rhythm guitar is an arcane art, fast dying away. For the ever dwindling number of rhythm thunderers in the world, the Freddie Green sound is our Holy Grail and instantly recognizable. Freddie was so unique that guitarist Jim Hall said, "If the tree of jazz were pruned down far enough, we'd be left just with Freddie Green strumming away." What made Mister Rhythm inimitable? First, his sense of time, tempo, and rhythm were perfection. He instinctively knew what the best tempo was and securely set it for the other players. Even Basie adapted to Freddie's tempos, once quipping during a band rehearsal, "Now that Green is on vacation, maybe we can use some of my tempos." Second, Freddie played acoustically, without an amplifier, as does Bucky on this recording. The sound of his guitar was woody, deep, and percussive - all qualities that could be heard and felt on stage, but that an amplifier will not reproduce accurately. When asked by a puzzled journalist if he really wanted to be heard, Freddie answered, "Oh, yes I do, especially by the musicians on the stage." Third, he rarely took a solo. There are less than ten recorded examples of solos by Freddie even though he appeared on over three thousand recordings. He stated in a 1954 article, "The Basie band was built around the rhythm section and that rhythm was the most important thing for us to concentrate on, so that was it. Now I've played rhythm so long it's just the same as playing solos as far as I'm concerned." Fourth was his individualistic approach to chords. Freddie's technique was to play only certain important notes of each chord. He would strum all six strings, muting most with his left-hand fingers, while allowing some strings to produce a note. This technique gave a driving rhythm sound, without creating unnecessary "harmonic clutter" that might conflict with notes being played by others. Freddie described it best, "I don't try to play those big 'concert' chords. I play just a couple of notes, sometimes just one, but it sets the sound of the chord. When you try to play those big chords, it can make the whole band drag." Bucky adds, "Freddie Green played one-note rhythm chords way before anyone else. On this record, I play a lot of one-note rhythm chords. I finger a three-note chord but only let one note sound, typically on the D string. I do this by pressing down hard only on one string. The other two strings in the chord form are muted, but each will have some pitch…like ghost notes. This technique was easy for Freddie to do because the strings on his guitar were very high above the fingerboard. Other guitarists couldn't even play his guitar!"
Freddie "Pepper" Green said little, preferring to let his music do the talking. His sound was distinctly different from other rhythm guitarists. "You can't explain why Freddie sounded like Freddie. Take the top ten guitar players in New York and have Freddie explain how he played, and still none would sound like him," remarked Bucky. Freddie's unique sound and perfect time kept him in demand for recording sessions when the Basie band was not performing. "He probably made more records than any guitar player in the business," observed Bucky, himself a mainstay in New York recording studios for decades. Many colleagues, competitors, and admirers tried to get playing tips from Mister Rhythm; none were successful. When Jim Hall asked for advice, Freddie answered, "Always pack your bag the night before and leave your uniform on top." When Bucky asked how Freddie learned to play rhythm guitar, he replied, "It took a long time." And to my backstage inquiry asking Mr. Green if he would discuss his rhythm guitar technique for a jazz magazine article, he simply said, "No."
His job with Basie, and other jazz ensembles that hired him, was to keep time, to create a "rhythm wave" (Freddie's term), to be the heartbeat...the pulse of the music. It was a job that he did better than anyone else. Once when a fan asked him why he didn't smile when he played with Basie, Freddie replied, "Smile? What for? I'm working." And he worked right up to the time his own pulse failed on March 1, 1987 in Las Vegas, Nevada, soon after finishing a performance with the Count Basie Orchestra, by then his employer for nearly fifty years.
So to end this tribute to Mister Rhythm, let's add one more "tune" to the thirteen already brilliantly recorded on this CD:
John Bunch plays the intro, "Freddie Green was the real basis for that 'Basie feel' unique to the band."
Jay Leonhart states the theme and development, "Regarding Freddie Green, I can only say that he is one of the monumental people in the history of jazz, and music in general. His contribution to the Basie band was more centrally important than anybody's except for Basie himself. Freddie's 4/4 simply and quietly ruled that band. Everybody played where Freddie played. Period! He suffered no fools. Freddie seemed stubborn and impenetrable, but if you played with a good time feel, you joined his inner circle. Then, after ten years in the inner circle, you actually got to speak to him. I got a simple nod from Freddie one night when we were accompanying Mel Tormé with Basie's band. I was informed that people would die for that simple nod. I now understand."
Bucky provides the coda, "There was only one Freddie Green."
And somewhere Bill Basie himself adds his trademark three note ending, "Here's...to...Pep!"
---
Michael Pettersen has played rhythm guitar in big bands since 1970 and has written extensively on rhythm guitar technique and history. He co-founded and authors a web site dedicated to Freddie Green - the Master of Rhythm Guitar.
---
Discography Appendix: first recordings by Freddie Green
"All of Me", Count Basie Orchestra, 78 rpm, Columbia 36675, November 3, 1941
"Bustin' Suds", Paul Quinichette, Sequel, 33 rpm, Mercury MG-26035, July 1, 1952
"Corner Pocket", Count Basie Orchestra, April In Paris, 33 rpm, Verve MGV-8012, July 26, 1955
"Down For Double", Count Basie Orchestra, 78 rpm, Columbia C-607, November 17, 1941
"For Lena and Lennie", Count Basie Orchestra, Count Basie...One More Time, 33 rpm, Roulette R-52024, December 19, 1958
"High Tide", Count Basie Orchestra, 78 rpm, V-disc 483B, May 14, 1945
"Lester Leaps In", Count Basie Orchestra, 78 rpm, Vocalion 5118, September 5, 1939
"Shiny Stockings", Count Basie Orchestra, April In Paris, 33 rpm, Verve MGV-8012, January 4, 1956
"Sophisticated Swing", Count Basie Orchestra, 78 rpm, Victor 20-3255, December 8, 1947
"Up In The Blues," Freddie Green, Mr. Rhythm, 33 rpm, RCA LPM-1210, December 18, 1955
____________________________________________________________________________
THE CREDITS
Produced by: Bucky Pizzarelli
Executive Producers: Rachel and Mat Domber for Arbors Records, Inc.
Recorded: May 9 and 10, 2006 at Nola Studios, NYC
Recorded, Mixed and Mastered by: Jim Czak assisted by Bill Moss
Bucky Pizzarelli Cover Photo: Mat Domber
Freddie Green Cover Photo: Bob and Nancy Frey, Frey Collection of Jazz Photos, taken at Disneyland, September 1976. Photo obtained courtesy of Michael Pettersen.
Cover Design: Luke Melton / Icon Design Graphics
Bucky Pizzarelli performs on a 1939 Epiphone "Deluxe" archtop guitar, similar to a model used by Freddie Green in the 1930s, and uses LaBella heavy gauge bronze guitar strings.
Joseph B. Gianono
---
OTHER ARBORS ALBUMS BY BUCKY PIZZARELLI
Bucky Pizzarelli: Solo 7-String Guitar Volume 3: Flashes ARCD 19306
Bucky Pizzarelli: Solo 7-String Guitar Volume 2: One Morning in May ARCD 19254
Bucky Pizzarelli: Solo 7-String Guitar Volume 1: April Kisses ARCD 19227
The Pizzarellis, Bucky and John: Contrasts ARCD 19209
In addition, Bucky appears on 30 Arbors albums and on video of Flip Phillips 80th birthday party (ARVHS-2).
---
NEW FROM ARBORS RECORDS
John Bunch at the Nola Penthouse Salutes Jimmy Van Heusen ARCD 19326
Dave Glasser Above the Clouds ARCD 19337
The World's Greatest Jazz Band at Manchester's Free Trade Hall. 1971 ARCD 19343
Ralph Sutton at St. George Church, Brandon Hill, Bristol, England ARCD 19336
Jay Geils, Gerry Beaudoin and the Kings of Strings: Featuring Aaron Weinstein ARCD 19332
Rossano Sportiello at the Old Church, Boswil, Switzerland ARCD 19321
Marty Grosz and His Hot Combination ARCD 19319
Bernd Lhotzky: Piano Portrait ARCD 19322
The Harry Allen-Joe Cohn Quartet: Hey, Look Me Over ARCD 19333
Chuck Redd Remembers Barney Kessel: Happy All The Time ARCD 19314
Warren Vaché and The Scottish Ensemble: Don't Look Back ARCD 19318
Dave Frishberg at the Jazz Bakery: Retromania ARCD 19334
Jackie Coon: The Joys of New Orleans ARCD 19119
The Earl May Quartet: Swinging the Blues ARCD 19320
Ruby Braff and Friends: Controlled Nonchalance, Vol 2 ARCD 19311
Aaron Weinstein: A Handful of Stars ARCD 19316
The Kenny Davern Quartet: In Concert at the Outpost Performance Space ARCD 19315
Sara Caswell: But Beautiful ARCD 19304
John Sheridan's Dream Band: Easy As It Gets ARCD 19309
Randy Reinhart at the Mill Hill Playhouse: As Long As I Live ARCD 19313
Dick Hyman and Randy Sandke: Now and Again ARCD 19310
Hanna (Richardson) and Phil (Flanigan): Simply....With Spirit! ARCD 19301
Tommy Newsom's Octo-Pussycats ARCD 19312
Ruby Braff Trio and Quintet: You Brought a New Kind of Love ARCD 19260
The Howard Alden - Dan Barrett Quintet: Live in '95 ARCD 19280
Bob Dorough: Sunday at Iridium ARCD 19305
Five Play....Plus ARCD 19307
The Johnny Varro Trio: Pure Imagination ARCD 19293
---
WRITE ARBORS RECORDS FOR A COMPLETE CATALOG
DDD
5 For Freddie: Bucky Pizzarelli's Tribute to Freddie Green
ARCD 19344
Playing rhythm guitar is an arcane art, fast dying away. For the ever dwindling number of rhythm thunderers in the world, the Freddie Green sound is our Holy Grail and instantly recognizable. And no one appreciates the artistry of Freddie Green more than Bucky Pizzarelli. Freddie, known to his band mates as "Pepper, " played rhythm guitar for over fifty years, most notably in Count Basie's dream rhythm section of the late '30s and early '40s that the jazz world named "The All-American Rhythm Section." Bill Basie on piano, Freddie Green on guitar, Walter Page on bass, and Jo Jones on drums were admired by jazz fans worldwide and envied by every other big band leader. "The All-American Rhythm Section" played with restraint, drive, perfect time, and enough swing to alter the Earth's orbit. Performing in their roles, the "Cast" on this recording, Bucky on guitar, John Bunch on piano, Jay Leonhart on bass, Mickey Roker on drums, plus the added "Sweets" Edison-style muted cornet of Warren Vaché, account for over 250 years of jazz experience. Every track here abounds with taste, humor, restraint, witty quotes, invention, and swing. Just listen, enjoy, and smile...maybe even dance. Excerpted from the album notes by Michael Pettersen, who has written extensively on rhythm guitar technique and history and authors a web site dedicated to Freddie Green - the Master of Rhythm Guitar - http://www.freddiegreen.org.)
---
1. Groovin' High (Dizzy Gillespie, Charlie Parker) (6:01)
2. Bustin' Suds (Freddie Green) (6:00)
3. For Lena and Lennie (Quincy Jones) (9:12)
4. Up in the Blues (Freddie Green) (4:05)
5. Down for Double (Freddie Green) (4:11)
6. High Tide (Freddie Green, Count Basie, Elmer Rutherford) (4:28)
7. Dreamsville (Ray Evans, Jay Livingston, Henry Mancini) (4:04)
8. Shiny Stockings (Frank Foster) (5:58)
9. Centerpiece (Jon Hendricks, Harry "Sweets" Edison) (4:43)
10. Corner Pocket (Freddie Green) (4:30)
11. All of Me (Seymour Simons, Gerald Marks) (4:11)
12. Sophisticated Swing (Mitchell Parish, Will Hudson) (6:33)
13. Lester Leaps In (Lester Young) (4:21)
Bucky Pizzarelli, Guitar, Leader
Warren Vaché, Cornet
John Bunch, Piano
Jay Leonhart, Bass
Mickey Roker, Drums