On June 21, 2006, Freddie Green was inducted into the American Society of Composers, Authors, and Publishers (ASCAP) Jazz Wall of Fame.
The ceremony took place at ASCAP headquarters in New York City, near Lincoln Center and was hosted by Marilyn Bergman, President & Chairman. The award was presented by Dr. Billy Taylor and accepted by Freddie's son Al, and his daughter Miriam.
Also inducted at the event were Fletcher Henderson and Sarah Vaughan. Three living legends were also inducted: Clark Terry, Frank Foster, and Horace Silver. Mr. Terry and Mr. Foster were present for the event. Mr. Silver could not attend.
Friends and family of the inductees attended, including Frank Wess, Bucky Pizzarelli, Roberta Flack, and many others.
During the event time was spent recognizing the ASCAP Foundation's Young Jazz Composer award honorees as well as the ASCAP Foundation Vanguard Award recipient, guitarist Ken Hatfield.
Freddie Green webmaster, Carl Severance, and I were graciously invited to the event by ASCAP. The Freddie Green web site was employed as a research source by the ASCAP selection committee.
On a personal note, the event was a highlight of my life. Being among these jazz legends was thrilling. All were gracious, warm, and humble. Those that knew Freddie Green agreed to provide oral histories of their Freddie memories. Transcriptions of these oral interviews will eventually be posted at the Freddie Green site.
Michael Pettersen
July 2006
For more information, please visit the ASCAP web site.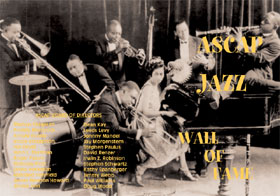 The cover of the invitation.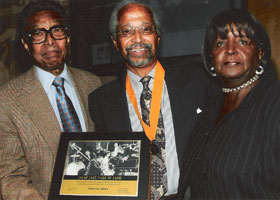 Dr. Billy Taylor (left) presents the Jazz Wall of Fame plaque to Freddie Green's son and daughter.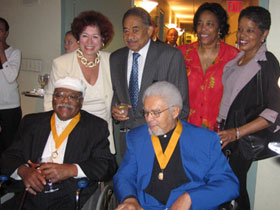 Basie alumni Clark Terry (left), Frank Foster (right), and Frank Wess (standing) reunite.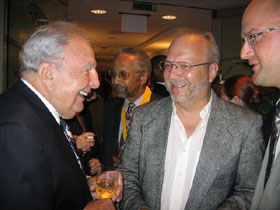 Bucky Pizzarelli (left) talks with Michael Pettersen (center) and Carl Severance (right).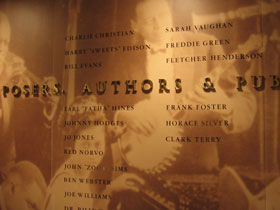 A view of ASCAPs Jazz Wall of Fame in their office building near Lincoln Center in New York.