For Freddie's 100th Birthday, we solicited the following comments from family, friends, and fellow musicians. We also added a new page to the site that features twenty audio examples of Freddie's playing in various live and studio recordings from throughout his illustrious career.
---
A Happy 100th Birthday Freddie Green, Mr. Rhythm, Dad
In the early 1940s, my Dad made his first trip to his beloved hometown, Charleston, South Carolina, with Count Basie. Family and friends anxiously awaited their home-grown celebrity, heralded for playing guitar with the renowned Count Basie Band. Uninvited folks also came with their children to get a glimpse of Freddie Green and, hopefully, of Basie, and they filled my Uncle Willie's yard. As a four-year-old child, not understanding all the attention my Dad was receiving, I begin to throw a tantrum, "Why are all of those kids grabbing my Daddy? He's mine! Go home!" I began to jump up and down, and to yell, "Daddy, Daddy, me!" The crowd moved in tighter, closing the circle around my Dad and pushing me further to the perimeter. Dad reached over the little "ants" and plucked me out, holding me high above the others and whispered, "You don't have to yell to be heard. I always know you're there."
How appropriate that these same words of wisdom characterized Dad's approach to his music - creating a sound at times barely audible, but always felt. And his words also describe how he lived his life - quietly attracting admiration and respect... just by being Freddie Green.
Happy 100th Dad,
I miss you,
Al
(March 2011, Copyright © Alfred Green)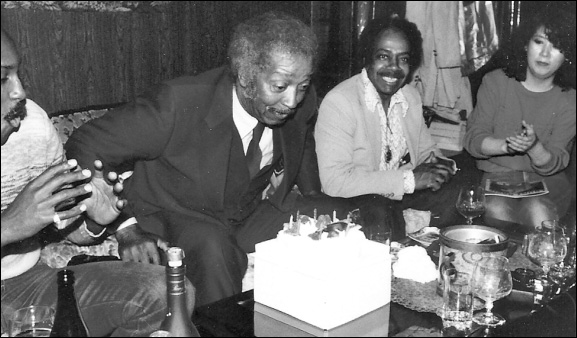 Birthday Party for My Dad in Japan
(Dennis Rowland, Freddie Green, Danny Turner, Unidentified guest)
Photo by Sawa
---
From "Ranger" Doug Green:
I feel like the one of luckiest men alive to have made a living playing rhythm guitar for over 40 years. Along the way I have had many guitar heroes: Homer Haynes, Allen Reuss, Bucky Pizzarelli, and many several other mentors, friends, and inspirations like John Parrott and Freddie Green scholar, Michael Pettersen.
But obviously the reason I write today is that my number one inspiration has been the legendary Freddie Green. He brought such a unique approach to rhythm guitar to the Basie Band and to the world--that incredible pulse, that incredible tone, that incredible relaxed feel that somehow manages to be right on the beat--and I have consciously tried to bring that same feel to western music with Riders In The Sky and western swing with The Time Jumpers, something that to my knowledge has never been done before.
So in a way every time I take the stage (which, statistically, is about every other night) I am very consciously paying tribute to Freddie Green's sound and style, and very consciously, in my small way, endeavoring to keep it living and breathing, though in different surroundings. I've got to believe he's up there grinning, hearing his sound (or at least my adaptation and interpretation of it) out west!
I have to thank Michael Pettersen for keeping the Freddie Green life and legacy alive on the freddiegreen.org web site, and for inviting me to say a few words of heartfelt tribute to my guitar idol, and in allowing me to join all of you in saying HAPPY BIRTHDAY FREDDIE GREEN!
Ranger Doug
Riders In The Sky
The Time Jumpers
(March 2011)

---
From Butch Miles:
"Happy 100th birthday to one of a kind, Freddie Green. During my first stay with the Basie Band (1975-1979) Freddie was both formidable and informative. Example: Freddie was such a legend when I first joined the band I was afraid to even talk to him. He was a man of very few words and would likely ignore you as speak to you... especially if he didn't have anything pertinent to say. He didn't waste words just to hear his own voice break the silence. He was informative as in this example: After I had been on the band for about a year we were performing one night and I was playing a strong back beat for the shout chorus to make sure I supported the ensemble. Afterwards, Freddie came over and started to talk to me. (He talked to me!) He told me that that particular section in the arrangement called for me to explode and, in his own words, "That's yours. Take it away from them". Of course I replied with something like "Hmmghweirgtymogafcxx" or at least it sounded like that. Tongue tied? Yes sir. Thankful? Yes sir. After that Freddie and I were comfortable on stage and off. His taste, time and knowledge were impeccable and I can never thank him enough for all that he taught me. He surely WAS one of a kind."
Butch Miles
(March 2011)

p.s. Michael, thanks for the kind words about Freddie's sound on that recording [Hail To The Chief! Butch Miles Salutes Count Basie, 1982, Famous Door HL145]. I had to convince the producer to almost over-record Freddie's sound to insure that the guitar would not be lost in the LP pressing techniques of the day. What would sound great on the original tape in the studio would get lost in the compression from tape to vinyl. I didn't want that to happen so I made sure the engineer bumped Freddie up a bit louder than normal. It worked.
---
Mr. Freddie Green, I never met you but I know much about you through your son Alfred, my brother-in-law. The pictures that are carefully hung in his library and the treasured memorabilia placed ever so carefully in the wall niche of his living room is a constant reminder of how much your son Alfred loves you and will never forget you. Rest well and Happy 100th Birthday!
Edna Chaparro, Alfred Green's sister-in-law.
March 31, 2011
---
Charleston has a significant anniversary to recognize this spring. Freddie Green, the most acclaimed rhythm guitarist in the history of jazz, was born here on March 31, 1911. Freddie Green held the guitar chair in the Count Basie Orchestra for almost 50 years. The band's "All American Rhythm Section" was central to its success, and Mr. Green was arguably its key member.
Freddie Green spent his early years in Charleston. Though not an orphan, he was schooled at the Jenkins Orphanage at 20 Franklin Street. The orphanage has since moved, but the building survives, next door to the old city jail. Mr. Green received solid musical instruction there, and joined the Jenkins Orphanage Orchestra as a banjo player.
For decades the Jenkins Orphanage Orchestra supported the orphanage with long tours of the United States. One such tour in the mid-1920s took the group, and Freddie, to New York City. As the orchestra left for home Freddie chose to stay behind, to test his mettle in the city's burgeoning jazz scene. He began working clubs with his banjo and taught himself to play the guitar. As his skills increased so did his reputation. He soon found steady work as a guitarist.
The Count Basie Orchestra was, like Freddie, talented and ambitious. In 1936 the record producer/talent scout John Hammond persuaded the band to move from Kansas City to New York. The band showed tremendous promise but suffered a few instrumental shortcomings. Hammond arranged for Freddie to audition with the Basie band in March of 1937; he was hired a short time later. Excepting a few brief interruptions Freddie remained with the band until his death on March 1, 1987.
What made the "All American Rhythm Section" so great? All big band rhythm sections are tasked with maintaining the beat. The best ones, though, do so in a way that is at the same time inspiring to the other musicians and unobtrusive. Rhythm sections that play dense chords, play too busily or attach a leaden emphasis to the beat, clutter up the sound and get in the way of the other players. To saddle the Count Basie Orchestra with such a rhythm section would be like putting square wheels on a Ferrari.
The four original members of the Basie rhythm section, on piano, bass, drums and guitar, met this challenge brilliantly. Their playing exhibited superb musicianship and taste, and left a lot of room for the other band members to shine. Most of us are familiar with Mr. Basie's understated style on piano, dropping just the right chords and single notes in just the right spaces. It's not so well known that the other three players were gifted innovators.
Walter Page, the bassist, was a respected former bandleader in his own right. He was among the first to adopt a walking bass style, playing mostly quarter notes to create an independent melody that complemented the rest of the band. Papa Jo Jones was a drummer of genius. He, along with Kenny Clarke and others, pioneered a shift in the drummer's approach to the drum set. Earlier jazz drummers, taking their cue from their marching band roots, supported the beat by playing quarter notes on the bass drum. Papa Jo shifted the drummer's timekeeping role from the bass drum to the hi-hat and ride cymbals; the other pieces of the kit were used mostly to provide accents. As such, Jones' revolutionary style supported the beat just as forcefully as before, but with an unmistakable boost in musicality and expression. Mr. Jones' work with brushes and hi-hat is particularly admired in drumming circles to this day.
What of Freddie Green's own contributions to the rhythm section? For one thing, he was the band member most responsible for establishing the beat. His sense of tempo was impeccable; even Basie yielded to Freddie when it came to tempo selection. Mr. Green set the beat by playing quarter-note chords -- he almost never soloed. Someone with way too much time on his hands once estimated that Freddie played a quarter billion quarter-note chords over the course of his career.
Beyond this, Freddie conceived and perfected an ingenious approach to his playing. I will only touch on the way he constructed his chords here, although there is much more to discuss. Freddie Green formed his chords with the fingers of his left hand as you would expect, but he would usually press down on just one to four of the six strings. He would mute the other strings. When he struck a chord, the muted strings produced a short percussive accent, subtly announcing the beat to the other musicians. The pressed down strings produced musical tones that were sustained for the full length of the quarter note. Remarkably, Freddie selected the pressed strings on the fly to complement whatever Basie, Page and Jones were doing. This was true jazz improvisation.
These four musicians played as one, unobtrusively, in perfect time and with an irresistible sense of swing. This allowed the rest of the band to soar. Soloists like singers Jimmy Rushing and Billie Holiday, trumpeter Buck Clayton, tenor player Lester Young and others were able to weave their magic with absolute confidence.
So long as jazz lives Freddie Green's memory will never die. We of Charleston can be proud of our association with him. May he be remembered and honored on his 100th birthday.
Phillip Moss
Charleston South Carolina
---
Happy 100th, Freddie Green
Published in The Post and Courier, Charleston, North Carolina on 03/31/11
BY JACK MCCRAY
Special to The Post and Courier
Happy birthday, Freddie.
Yes, I believe I can say that directly to Freddie Green, one of Charleston's favorite sons, even though he died in 1987. His flesh and bones passed away that year, but his spirit will live forever, given his contributions to American culture through jazz music.
Green was the rhythm guitarist in the Count Basie Orchestra for just about 50 years, joining the band after it rolled into New York City in 1937 to begin changing the face of American music. He is credited with having the longest running gig in show business.
The Basie Band was the musical touchstone of the swing era. Yes, there was Fletcher Henderson, Benny Goodman, Duke Ellington, Glenn Miller and many others, but nobody swung like Basie, the band's pianist as well as bandleader.
Green, aka Mr. Rhythm, was called by Basie "my left hand." His unusual in-the-pocket strumming propelled the band to heights of artistry and musicianship and its listeners to ecstasy.
Consider this: Green was in the Basie Band longer than Basie, so to speak. The Count died in 1984.
The Basie Band, still playing, is the role model for the Charleston Jazz Orchestra. Not many of its concerts have gone on without some tune from Basie's book. It's another way Green is still alive to me.
When I hear CJO guitarists John Oden and Lee Barbour play with the band, I hear Steady Freddie. CJO's theme song is "Corner Pocket," an American classic composed by Green.
Pep, as he was known to his bandmates, never stopped loving Charleston. He came home whenever he could to enjoy family, friends and the Lowcountry ambience. He would swim in okra soup if he could.
Green started as a child on the banjo, playing with the famed Jenkins Orphanage bands, but he was not an orphan. He was born and raised in the northwest section of the peninsula near where Burke High School is located.
He was a fine singer and loved to dance. I learned that from hanging out with his son, Al Green (not the R&B singer), for the past few years.
Freddie Green told James Standifer of the Interlochen Arts Academy, c. 1980: "Well, I really liked music in my home. ... I first really heard it at an orphanage there called the Jenkins Orphanage, and they had musicians, young kids, playing horns. I think they had about four or five bands and used to go around the corners and play. Whatever I was doing, I would stop and go follow them. They used to play on one corner and they would play 10-15 minutes and then they would go to another corner and play, and I would just follow them ... right out of my neighborhood."
The Charleston Jazz Initiative is involved in research about Jenkins and Green. In June 2007, a conference that it convened, the S.C. Jazz Diaspora, included a symposium I moderated that featured, among others, Al Green and Michael Pettersen, guitarist and independent researcher on the elder Green's life and work.
Subsequently, Al Green donated an impressive array of materials on his father to CJI's collection, now being processed at the College of Charleston's Avery Research Center.
Freddie Green lives on in many ways. (I think it's very interesting that the only month whose name is also a verb, March, is significant in Green's life. He was born in March, he joined the Basie Band in March and he died in March.)
Tyler Ross, guitar instructor in the C of C's jazz studies program, is conducting a jazz guitar festival and seminar April 2, and he asked me to speak to participants and attendees about Green.
It will be a labor of love.
Again, happy birthday, Freddie.
Jack McCray
Author of "Charleston Jazz" and a founding board member of Jazz Artists of Charleston.
---
Dearest Freddie,
When Michael Pettersen (my husband) and Carl Severance decided to start this website for you, I'm sure they had no idea how many people around the world they would touch, or how many deep and abiding friendships would be made. You see Freddie, you are admired all around the world, by people of all ages and backgrounds. Because of you, Michael has "met" on line, and sometimes in person, lovely folks. He has mentored young people in your musical style and furthered education in big band music. Some of these people have come to our home and shared dinner and friendship. We would never have had these friendships if it hadn't been for you. You are an important part of Michael's life, and therefore, of mine. You have made my life richer and more vibrant. I could never thank you enough. I can only say that you are a part of our family. Happy Birthday.
Jamie Aramini-Pettersen
---
I met and heard Freddie only once. It was January of 1986 in Lucerne, Switzerland. My father, Bucky Pizzarelli and I, along with Peter Appleyard, Neil Swainson, and Don Lamond made the trek from Bern to hear the Count Basie All Stars. That group included Red Mitchell, Nat Pierce, Freddie, Clark Terry, Illinois Jacquet and Billy Mitchell. Unfortunately, I can't recall the drummer. We got to the venue early after finishing up dinner. I looked up at the stage and, quite unassumingly, Freddie walked out with his guitar, sat down at the piano, hit an E, and started to tune. And I started to cry. I was thinking of all the places in the world he has done this. Freddie played so wonderfully that evening. At the end of the night, my Dad found him backstage and we were introduced. I remember how nicely he spoke to me of my Dad's playing. Freddie was very kind and warm. I really will never forget it. Nor will I ever forget the sound of his guitar in the middle of that band. What a thrill!
Guitarist John Pizzarelli
www.johnpizzarelli.com
---
Freddie turns 100 and there are still new facets of his style for us to discover. It's quite humbling to keep in mind that Freddie Green is not just the swing era's pre-eminent acoustic rhythm guitarist, not just the name of the man most every player on every instrument associates with how a guitar should sound and be played in a big band, his is the name which defines the style - Freddie Green is the style. All we need to see on an arrangement is 'ala Freddie Green' and we know what to do. An arranger or conductor cannot be more explicit nor precise than to say "play like Freddie Green" in order to tell the guitarist what he/she should be doing. In looking at what/how Freddie played mainly in the New Testament Basie band and later, Michael Pettersen described it as a "one-note chord" in that Freddie focussed on a single strong tenor harmony line on the 4th string, spicing it up once in a while with an added note on the 3rd string. As I've said before, that's exactly right; that's how he played. What was only recently brought home to me was how appropriate and fortuitous a choice of words that term really is.
I was giving a rhythm guitar workshop to a group of middle and high school band directors from all over the world a while ago at Jazz at Lincoln Center. To aurally illustrate the tenor line on the 4th string concept, I played some rhythm on my acoustic. No sooner had I started playing, only on one string of course, than Eli Yamin, a participant and an excellent pianist with whom I've worked before, piped in asking for the real number of notes I was actually playing. I repeated that I was only playing on the 4th string and began to continue when he interrupted again insisting that he was hearing more than one note, this time echoed by a few others. I asked that they all come up, stand next to me and listen closely one more time. That's when it struck me that what they were hearing (and now so was I) were the multiple random harmonics excited on the strings I was deadening but not playing with my left hand. I would strum a single note on the 4th string and we would clearly hear the overtones ringing after letting the 4th string note go. With heavy gauge bronze strings and a very high action any note I played on the 4th string was joined by sympathetic harmonics and/or by the natural harmonics (particularly those at the 5th, 7th, 9th and 12th frets) of the other deadened strings.
The "one-note chord" it is. Thank you Freddie for showing us how to do it right.
James Chirillo
---
Here's a terrific video montage that was posted on YouTube as a tribute to Freddie Green. This video contains an assemblage clips from many different performances.