Recorded Telephone Interview with George Avakian - Record Producer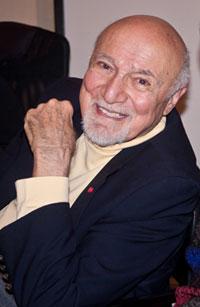 Date: March 3, 2011
Interviewer: Michael Pettersen
Phone Interview: Mr. Avakian in Riverdale NY; Pettersen in Evanston IL

I met Freddie Green at a club called The Black Cat, down in Greenwich Village. It was in 1937 before he joined Basie. Dwight Chapin, who worked from Benny Goodman, invited me to hear Amanda Randolph, a blues singer – an old-timer, at The Black Cat. Her backup musicians were Cliff Jackson on piano and Freddie Green on guitar. Freddie came over to our table after the set and we talked. For some reason, Freddie befriended me. I was only 17 years old at the time.
When the Count Basie band came to New York, after Freddie had joined in 1937, he introduced me to the musicians and that put me "in" with the guys. As a result of our friendship, I had an entrée into the Basie band. That was exciting as I was still quite young. It was the most amazing band that I had ever encountered. They could build up a swing feel that was unbelievable. My favorite Basie recording from that era is "Swing, Brother, Swing" with Billie Holiday. It was a Buck Clayton head arrangement.
My friendship with Freddie continued to develop. Freddie suggested that I come out to watch the Basie softball team play in Central Park. After several innings, Buck Clayton came over to me on the sidelines, tossed me his glove and said, "I hate this game. You go in for me. I know you're a ball player." So I became a regular member of the Count Basie softball team. I don't remember Basie ever playing a position. He stood on the sidelines and smiled. The bad player was Lester Young, who insisted on pitching but he wasn't very good at it. He would get clobbered by the opposing team. Honestly, I do not remember that the Basie team ever won a game, but we had a great deal of fun.
The first game that I played in was against the Jimmie Lunceford band. Lunceford was pitching and he was a big, strong guy. He had a great fastball. I thought that if I could just get my bat on the ball, I'd get a hit. Well, I struck out. But the next time up, I hit a single to left-center. The highlight of the game for me was when I was playing right field, in place of Buck Clayton. There was a runner on first, and a single was hit to right field. I fielded the ball and threw to third base, in time to get the runner that was on first. The runner's slide into third knocked down Sweets Edison. He went flying about 10 feet. Then he jumped up and yelled at me, "George, the next time that happens, throw the ball to home. Ed Lewis is bigger than me."
Basie asked me to talk to Harry James and to challenge his team to a game. The James band had a "Cracker Jack" (great) ball team. The rumor was that Harry only hired ball players to perform with his band! I called Harry, "The Basie team wants to play your team. Incidentally, I am a regular member of the Basie team." Harry quipped, "Tell Basie that my band does not play any team that has a 'ringer'!" That cracked up Basie when I told him. We never did play Harry's team and that was probably a very good thing.
The best player was Herschel Evans at second base. Jack Washington was also good; he played shortstop. I don't remember what position was played by Freddie. He was fairly slim guy at the time and was not a power hitter. He might have played the outfield. After Herschel Evans died in 1939, the team lost heart and did not play much.
Freddie remained a good friend. Anytime or place that I wanted to hear the band, all I had to do was to contact Freddie with a phone call or a letter. He would always arrange free tickets for me and my friends. The last time I saw Freddie was memorable. I was in California for a meeting with Warner Brothers. We had a party at Lee Gillette's home. Sometime during the evening, someone suggested that we all fly to Las Vegas and catch the Basie band. Hal Cooke was the ring leader for this Vegas excursion so we took a night flight to Vegas. There were five of us. When we got to Vegas, we all hit the gambling tables and we all were cleaned out – no money! Hal said to me, "George, you know the Basie guys. Who can you borrow money from?" Well, the kindest one would be Freddie. I found Freddie and explained what had happened. He grinned and gave me a fifty dollar bill, which I changed into five ten dollar bills. Then we all lost that on the tables. What a night, but we did hear the band! We flew back to Los Angeles the next morning and I took my kids to Disneyland, though I was dead tired and a little nauseous. I think my wife knew that I did not feel good, but she was not going to let me out of my commitment to the kids. That was a long day.
I never produced a Basie record, sad to say. I did use Freddie and Buck Clayton on multiple recording dates that I did produce. I also tried to use Basie, but Norman Granz would not let that happened as Basie was under contract to him at the time. As a rhythm guitarist, Freddie was often buried in the sound of the band and that's too bad because he added so much to the band's swing. I have a signed personal note to me where Freddie spelled his last name, "Greene." But most of the time, I see his name spelled as "Green." Wish I knew how the "Greene" spelling came to be.
Freddie was a good friend. It was always wonderful to see him, which was not too often because the Basie band travelled so often. Freddie was very quiet. He was the nicest person imaginable. He always behaved as a gentleman. He never got into any big, heavy discussions. He was warm and he treated me like a friend from the very beginning. I never saw Freddie with bad company. He instinctively knew phonies or people that did not have good intentions. I wish that I had spent more time with him.