Interview of Lawrence Lucie - Rhythm Guitarist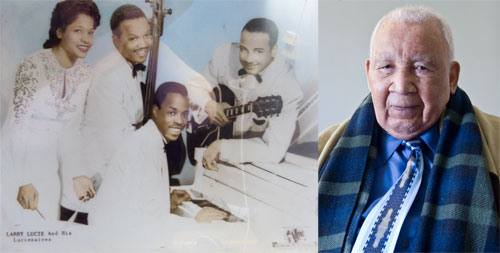 Interviewed by Frank Beacham
Edited by Michael Pettersen
December 18, 2007 (Mr. Lucie's 100th birthday)
New York City
My father was a violin player so I've been playing music all of my life. We had a family band. So naturally, I started playing very early. I studied guitar at the Paramount music studios in New York, one of the best music and guitar schools. I studied all aspects of music and I learned how to be a good reader of music. I also studied music in college.
I could read music and that made me suited for the big bands. Not all guitarists at the time could read music. You had to read to play with the big bands. When I came to New York City, Duke Ellington was the first famous band that hired me. I was a substitute for Duke Ellington's banjo player, Freddy Guy. He got sick and I went to play in is place. That started my career in New York. After that, I went from one band to the other. I knew Freddie Guy very well. He played with Fats Waller before joining Ellington. Freddy was a good banjo player. All the big band banjo players were good and could read well.
I played with the top big bands. I played with Duke Ellington, Louis Armstrong, Fletcher Henderson, Benny Carter's All-Star Band. I was in the first band that played at the Apollo Theater. I played with Fletcher Henderson. He had the number one band. I also played with the Mills Blue Rhythm band at the Cotton Club. It was the Cotton Club house band. Also I was with Lucky Millinder's band.
The Cotton Club was the main club in Harlem. There were always lot of girls there, dancing and entertaining. And I went on the road with many of the big bands. I traveled a lot with Fletcher Henderson and for a while we played in Chicago.
When I played with these big bands, rhythm guitar was very popular. In the early years, these bands had banjo, and then guitar became popular and replaced the banjo. I started my musical career on banjo. It was popular instrument for jazz in the 1920s. The 1920s bands used the banjo in the rhythm section. When the guitar became popular, I was one of the first to play guitar in big bands.
Duke Ellington was one of the best arrangers and producers. Duke was great, but he was not better than Fletcher Henderson. In my career, Fletcher Henderson was number one; he was from Birmingham, Alabama.
Duke Ellington, Cab Calloway, Louis Armstrong. They were all great. I'm on many of their records. I can't even name all the records I am on. After Louis' band, I went into the Army. After the Army, I started playing solo guitar.
I did it all. I had my own record company, so that I could record my own songs. I had several hit songs. I'd make more money if I owned my recordings. I also had a music publishing company and I wrote arrangements for Columbia Records; John Hammond was a good friend of mine. He was a very nice fellow. He'd come to Harlem when I was playing with Benny Carter's band at the Cotton Club.
The bands playing today are playing the same things as the older bands. They learned from the older bands.
I retired when I was 99. I've been playing all my life. My final gig was solo guitar at Arturo's Restaurant in Greenwich Village. I had an apartment in the Village before I moved to a retirement home. I have my guitar with me in my room. I sold the other ones. I had so many guitars that I had to get rid of them. Now I just have one. I haven't played now for a while.
I did everything on the guitar. I played all styles and I played all over the world with the top bands. Don't know how I got to be 100; I just stay well. I didn't gamble and I learned how to take care of myself. I'm the oldest in my family. Everyone is gone now except me. I've lived a good life.
---
December 19, 2007 Article
Living to 100, and Looking Back on a Legacy of New York Jazz
By JOHN ELIGON
THE NEW YORK TIMES
Lawrence Lucie no longer has the jet-black hair, the stylish suits or the dexterity that made him one of the pre-eminent rhythm guitarists in the jazz world. But he can still draw a crowd.
On the eve of his 100th birthday on Monday night, Mr. Lucie, sitting in a wheelchair, could not go 20 seconds without receiving an embrace, a pat on the back or a handshake from one of the many jazz connoisseurs gathered at the offices of the musicians' union in Midtown Manhattan. The well-wishers were there to pay homage to his legacy.
And it is quite impressive.
He is the last living person to have performed with Duke Ellington at New York's legendary Cotton Club. He played with Benny Carter at the Apollo Theater in 1934, the year it opened its doors to black customers. He played with Louis Armstrong for several years and was the best man at his wedding.
"The most amazing thing about him is how many great musicians he worked with," said Dan Morgenstern, the director of the Institute of Jazz Studies at Rutgers University, who was at the party. "It's like a whole living history of jazz. He's on so many important records."
Though Mr. Lucie does not share the fame of some of the stars he played with, the appreciation for him was clearly evident Monday night.
The celebration included performances by jazz musicians. People sang "Happy Birthday" and showered him with gifts and cards. Mr. Lucie seemed to be taking all the attention in stride.
After a woman greeted him with a kiss on the cheek, he smirked and said, "See, I know everybody." Later, he pointed toward the birthday cards on a table in front of him and said, "I've got a lot to read tomorrow."
Another celebration for Mr. Lucie was held on Tuesday at the Kateri Residence, a nursing home on the Upper West Side, where he has lived for more than two years. There, two men played guitar, Mr. Lucie was given three cakes, and he received a letter signed by President Bush and his wife.
Mr. Lucie said he hoped to attend a party that the Duke Ellington Society was holding in his honor on Wednesday night at St. Peter's Church, on Lexington Avenue at 54th Street.
He said he could not have imagined all the publicity when he moved to New York from his home in Virginia as a teenager more than 80 years ago to study guitar.
"I was just worried about playing," he said. "I just feel very lucky to be alive."
Mr. Lucie was born on Dec. 18, 1907, in Emporia, Va., and he started learning music nearly as soon as he could walk. His father was a jazz musician who also worked as a barber. By the time he was 8, Mr. Lucie was playing with his father's band, said Phil Schaap, a jazz historian and professor at Juilliard.
When he was 19, Mr. Lucie moved to New York to pursue his passion for the guitar. He worked as a barber during the day and studied at the Brooklyn-Queens Conservatory, Mr. Schaap said.
Around 1931, Mr. Lucie filled in for a week at the Cotton Club for Duke Ellington's guitarist. Mr. Lucie's career blossomed between 1932 and 1934, when he played with Benny Carter. After that, he worked with the likes of Fletcher Henderson, Coleman Hawkins, Jelly Roll Morton and Billie Holiday.
"Larry had the goods," Mr. Schaap said.
Mr. Lucie taught guitar at the Borough of Manhattan Community College for more than three decades, until about three years ago, Mr. Schaap said. In the 1970s, he started a jazz show on a Manhattan cable TV station with his wife, Nora Lee King. It ended when she died in the 1990s. Mr. Lucie played gigs in the city for most of the past 80 years. His final show was at Arturo's, a restaurant and bar in Greenwich Village, where he gave a solo performance on Sunday nights until 2005.
Mr. Lucie said his father's advice helped him enjoy his success in jazz and his longevity.
"I didn't have but one woman at a time," he said. "I didn't drink a lot of whiskey. I did what my father told me to do."
---
Jeff Tass received guitar lessons from Lawrence Lucie:
My memories of Mr. Lucie are limited because I began lessons with him at a young age. I may have been as young as six. In the late 1960's, Mr. Lucie gave lessons in a room at the YWCA, on Eighth Avenue and 49th Street in New York City. He was my teacher until I was thirteen or so. My commute from my new home in the boroughs was making it more difficult than before when I just walked around the corner to the YWCA. Towards the end of my lessons, Mr. Lucie was using this funky space off 7th Avenue in mid-town that may have been a big band rehearsal space. It was in a very cool and spooky old hotel building. He used a combination of Hal Leonard instruction books and his own. He had two books - one with a white cover and one with a pink cover; I think I still have both. Since I was a young and an awful sight reader (but with a decent ear), lots of the material went over my head.
Mr. Lucie was an impressive sight and presence: dapper, with slicked-back hair fastened by a small rubber band, wearing a vintage tuxedo jacket with creased trousers and shiny shoes. He played beautiful, vintage jazz guitars. It is a shame that he has kept only one guitar. His style was unmistakable. It was a combination of strumming full, thick, dry chords combined with finger-picked grace notes. The melody could come from the chord progression or the grace notes. He loved to sweep his thumb over the strings in a lazy up and down motion to keep the time. His foot never stopped tapping and his face never stopped smiling as if he were on stage performing for a huge audience. I don't recall him using a pick often as he preferred the finger style with the slow voiced chords, flecked with short, tasty, muted jazz runs of grace notes that hypnotized me.
I saw him perform in Arturo's Restaurant about fifteen years ago and he still had it. His wife, Nora, was by his side, swaying to the rhythm and playing along on bass. She was his biggest fan and he lit up every time that he looked at her. She remembered me, but Mr. Lucie wasn't certain since I was then in my thirties.
I'll look for the instruction books and dust off my memory as to what exact techniques he was trying to teach. There was, indeed, a very specific approach that he was trying to teach us. I have experienced many changes in professions in my life, but music (and my family) are the only things that really matter. My deep appreciation and respect for the art of music is because of Mr. Lucie. I hope that he lives another hundred years.
Jeff Tass
March 2008
---
August 18, 2009
Lawrence Lucie, Guitarist With Jelly Roll Morton, Dies at 102
By PETER KEEPNEWS

Lawrence Lucie, a guitarist whose career began in the early years of jazz and continued into the early years of the 21st century, died Friday in Manhattan. He was 101. His death was confirmed by Sharon Linder, an administrator at the Kateri Residence, the nursing and rehabilitation center in Manhattan where Mr. Lucie lived in recent years.
Mr. Lucie spent most of his career as a rhythm guitarist, rarely stepping forward to solo. But he was a master of the underrated art of keeping the beat, and over the years he kept it for some of the biggest names in jazz.
"The most amazing thing about him is how many great musicians he worked with," Dan Morgenstern, the director of the Institute of Jazz Studies atRutgers University, said at a party celebrating Mr. Lucie's 100th birthday. "It's like a whole living history of jazz."
The list of Mr. Lucie's employers included Duke Ellington, with whom he worked for a few nights in the early 1930s, and Louis Armstrong, with whom he worked for four years in the 1940s. He also performed or recorded with Billie Holiday, Benny Carter, Fletcher Henderson and many others. He was the last living musician known to have recorded with the New Orleans jazz pioneer Jelly Roll Morton.
Lawrence Lucie was born in Emporia, Va., on Dec. 18, 1907. (Some sources give his year of birth as 1914, but he confirmed the earlier date to an interviewer in 1981, explaining, "In show business it doesn't always pay to tell your real age.") He began studying banjo, mandolin and violin at an early age and played in a band led by his father. He moved to New York at 19 to pursue a career as a musician.
Later in his career he performed and recorded with his wife, the guitarist and singer Nora Lee King. The couple had their own public-access cable television show in Manhattan for many years.
Mr. Lucie taught for three decades at Borough of Manhattan Community College. He performed with the New York Jazz Repertory Company and the Harlem Jazz and Blues Band in the 1970s and with Panama Francis and the Savoy Sultans in the '80s and '90s. His last show was at Arturo's in Greenwich Village, where he played solo guitar on Sunday nights until 2005.
Information about survivors was not available. His wife, Ms. King, died during the 1990s.