Transcription: How High The Moon
Composer: Nancy Hamilton/Morgan Lewis
Transcription starts at 0'17"; ends at 0'46"
From the album: Basie in London
Leader of the session: Count Basie
Recorded: September 6, 1956
Reissued on CD: Verve 833 805-2
These thirty-two measures illustrates Freddie Green playing the standard, "How High The Moon". The majority of the notes are played on the 4th string. If an upper note is added, play the added note on the 3rd string.
Bar 10, beats 1 and 2, have an unusual choice of notes by Freddie. The written chord is an Am7, but Freddie plays the tritone (3rd and 7th) of an E7. As this is a live recording, it may be a mistake. Or it may be intended as a chord substitution with E7 acting as the dominant of Am6 (substituted for the written D7) on beats 3 and 4.
For instructions on how to play "one note" and "two note" Freddie Green chords, see my article written for Down Beat entitled: Distilling Big Band Guitar: The Essence of Freddie Green.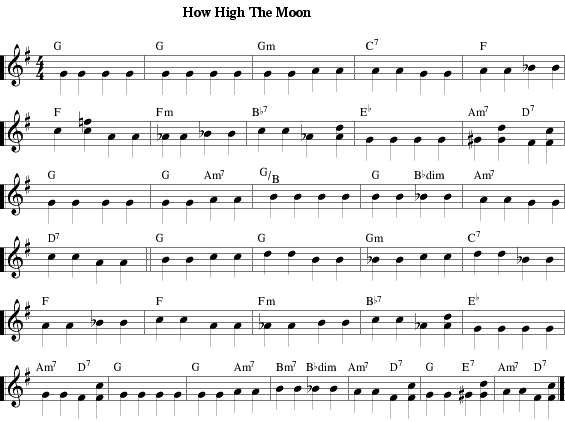 Transcribed by Michael Pettersen, March 2001